It's hard to imagine the extent of suffering that humans continue to inflicted on the nearest relative of our most beloved domesticated animal. With similar personality traits to those we treasure in our pet dogs, why is the closest cousin of Man's Best Friend feared and hated by so many?
Great efforts have been made to reintroduce the Grey Wolf to the wild throughout North America since its addition to The Endangered Species Act in 1973. An earlier federal extermination programme had pushed them from numbers exceeding two million to near extinction.
There are now an estimated 7,700 wolves in North America. Despite them inhabiting less than twenty percent of their historical habitat, the US Department of Fish and Wildlife considered their recovery so successful that they removed the Grey Wolf from the Endangered Species Act on the 4th Jan 2021. Now unprotected, their numbers are once again diminishing as hunters successfully push for a wolf 'harvest'.
A perceived threat to livestock, wildlife and humans seems to be the universal lie that mostly drives the want to exterminate these intelligent and highly sentient animals. Untruths that have been statistically proven to be false time and time again. For example in Idaho, where recent legislation is allowing hunters to kill 90% of the wolf population, statistics show that the entire state loses just 1% of cattle and 3% of sheep annually to wolf kills.
This ruthless legislation will also allow for the slaughter of pregnant females, and will ultimately devastate the wolf population in Idaho from 1,500 to an estimated 150 individuals. An unimaginable tragedy of suffering and loss for an animal who forms powerful bonds with family and friends and is able to feel love, pain and grief as we do.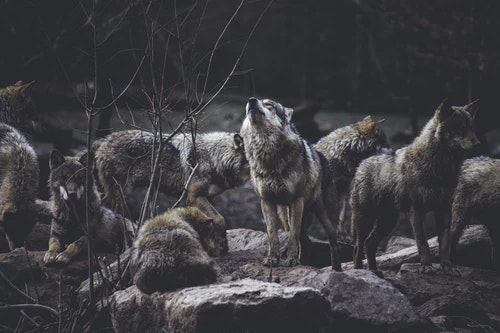 Photo by Thomas Bonometti on Unsplash
Human deaths caused by wolf attacks in North America are extremely rare, with only five such cases having been verified since the early 1940s. Wolves have also been proven to play a vital role in the health and biodiversity of America's natural habitats. They are known to keep herds of elk, deer, caribou and moose healthier by mainly killing the sick and the elderly. And by keeping these herds on the move, they also allow for healthier grazing patterns that, in turn, has rejuvenated areas of forest and open grassland, that were once barren and overgrazed, with vital new species of plants and wildlife.
Yet, as it has been throughout human history, we continue to vilify and annihilate these vital and magnificent animals.
Find out more about the legislation to kill 90% of Idaho's wolves in The Guardian's article HERE and a National Geographic article HERE.
Find out how you can help Grey Wolves at IFAW's website HERE.
Sign Born Free USA's petition to urge US Fisheries and Wildlife to re-list grey wolves as an endangered species HERE.
Find out more about protecting America's wolves on the Endangered Species Coalition's website HERE.