The job of a Field Ranger is one of the most dangerous in the world. You don't have to dig very deeply to find the many news headlines frequently reporting the tragic deaths of those protecting our planet's diminishing wildlife.
Over 130 rangers lost their lives worldwide in the line of duty in the eleven months between July 2020 and May 2021, adding to more than 1,300 global deaths since 2009. These figures are only the deaths reported to the Thin Green Line Foundation, many hundreds more will have gone unreported. The majority of deaths have been in Asia, with Africa running a very close second.
Two-thirds of global ranger deaths lie at the hands of wildlife poachers. Wildlife crime is currently estimated to be worth around £17b a year and is predominantly led by large organised criminal gangs with access to army-grade weaponry such as assault rifles and machine guns. These include militia groups in Africa and international criminal networks based in Eastern Asia, where the demand for exotic wildlife for medicinal and culinary use is at its highest.
One of the largest organised gangs, that deals in both wildlife crime and human sex trafficking, known as the Xaysavang network, has been operating out of Laos and Vietnam since the 1990s. With powerful international political connections in countries such as South Africa, Mozambique and Uganda, their involvement in the global wildlife trade is so far-reaching that, in 2013, the U.S. Government offered a $1M reward for information leading to their disassembly; a reflection of just how dangerous these organised criminals can be.
Sadly, poaching in Africa's protected parks has increased over the last two years because of a decrease in tourism due to the pandemic. Right now, Africa needs the courage and bravery of its rangers more than ever. So why become a ranger when the risks are so high? With many receiving low wages with no health insurance or long-term disability plan, it's certainly not about the money.
The role of a Field Ranger can include such things as monitoring the movement and health of wildlife, relocating animals, supporting researchers, and taking visitors on guided tours; but is primarily that of protecting wildlife from poachers, in often extremely challenging and dangerous circumstances.
The images of rangers carrying out military exercises and clutching rifles are familiar ones, but who are the people behind the uniform? In an interview with 'Love Exploring', which you can find HERE, a ranger from The Black Mambas, an all female Kruger National Park group, explained that she made the decision to become a ranger after seeing a poached rhino whose horn and ears were missing, "I decided from that point I wanted to protect the voiceless." The Black Mambas also run a school programme, called Bush Babies, that teaches children the importance of protecting the environment.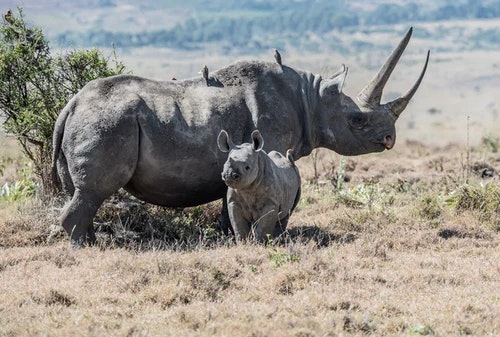 Photo by David Clode on Unsplash
In an interview for the 'Scientific American', found HERE, a 20yr old ranger working on the front line in the war against rhino poaching is quoted as saying, "I developed a deep passion for nature at a very young age. I always knew that one day I would have a career in the African bushveld. By the time I was close to finishing high school, the rhino poaching crisis was very serious and it made my decision as to what to do a lot easier."
Modern technology is finally starting to play a vital role in helping these passionate rangers in their fight against poaching. Long-range radios and hidden cameras, that stream live to control centres, are enabling them to better monitor the movement of both wildlife and poachers, helping to keep the rangers, and the wildlife they protect, safer. However, with poaching on the increase due to the pandemic, we must do more than we've ever done before to help protect these true wildlife heroes.
Find out how you can help keep rangers safer by visiting African Parks website HERE.
Visit The Thin Green Line's Roll of Honour HERE, in honour of the lives of the many rangers who have died in the line of duty protecting our planet's wildlife.
Find out more about East Asia's illegal wildlife trade and the steps being taken to tackle it in this Frontiers in Ecology and Evolution article HERE.
Find out more about Asia's criminal Xaysavang (XTC) network in an Independent Article HERE.
Learn more about the all female ranger group, The Black Mambas, by visiting their website HERE and read their interview with 'Love Exploring' HERE.
Find the Scientific American interview with the young 20yr old ranger working on the front line of the war against rhino poaching HERE.