Throughout human history, and especially since the dawn of organised civilisation, our ignorance and apathy toward animal sentience has caused the suffering of untold amounts of conscious, individual beings who we 'share' this planet with.
As we begin to better understand the negative impact of agriculture on the welfare of animals, our planet's biodiversity and our ecosystems, we must also consider the global impact of aquaculture.
The recent news of proposed octopus farms has further raised the ethical issues surrounding the factory-farming of intelligent animals. Human intelligence should not be the litmus test that all life on this planet is measured by. Let's not forget that it's our perceived greater intelligence, or our arguably over-evolved ego, that is responsible for the destruction of the very planet that sustains us.
With three hearts, the ability to change the colour and texture of their skin, one central brain and a further brain in each of their eight arms, octopuses not only look very alien to us, their bodies and sentience have evolved in a way that we will surely never truly understand. But what we do know for a fact, and has been scientifically verified, is that octopuses are highly intelligent animals who are sensitive to pain and posses complex emotions.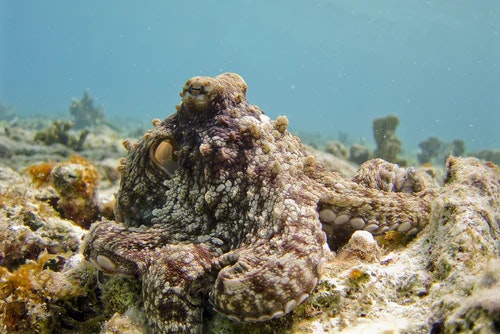 Photo by Vlad Tchompalov on Unsplash
Putting their sentience and intelligence aside, as is too often the case when exploiting animals for our own wants and needs, what would be the environmental impact of octopus farms?
Aquaculture is used to farm animal and plant life in both freshwater and seawater. For example, freshwater is redirected from rivers to allow for land-based Flow-Through Systems where fish such as trout and bass are farmed in small tanks. The Raceway System also diverts flowing water from natural watercourses to farm rainbow trout. Both these systems produce waste that is discharged back into our waterways that include high concentrations of fecal matter, uneaten food and, more worryingly, phosphorus.
Phosphorus can cause a process called eutrophication, where bodies of water become progressively enriched with minerals and nutrients. This promotes the growth of microscopic algae that disrupt natural ecosystems, not only causing fish and plants to die but also interfering with the treatment and quality of our drinking water.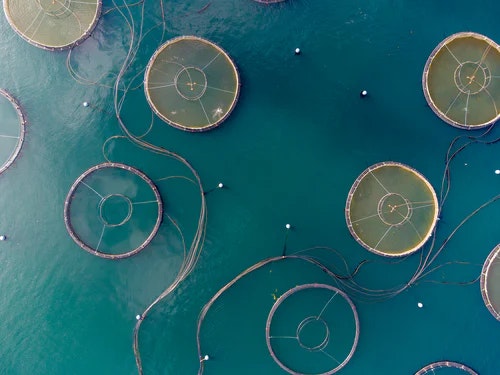 Photo by Bob Brewer on Unsplash
Common forms of seawater aquaculture include the Open Cage System, where fish are kept in small, suspended enclosures, and the Pond System where artificial ponds are created on coastal areas, most commonly used to farm shrimp. Millions of hectares of natural wetlands and mangrove forests have been destroyed to make way for this particular form of aquaculture.
As well as eutrophication also being a major problem with seawater farms, the high concentration of marine animals in such a confined space is also a breeding ground for disease and parasites that are easily transmitted to local and migrating wildlife. The use of antibiotics to prevent such outbreaks also impact wildlife populations, negatively effecting their natural immune responses.
Not only do we need to take into consideration the negative environmental consequences when considering the farming of octopuses, but we also must consider the unimaginable suffering that the mass farming of these highly intelligent, solitary animals would cause. There are currently no approved humane methods to slaughter these incredibly sensitive animals, whose uniquely captivating physiology and psychology we are only just beginning to understand.
Help stop the proposed octopus farms by signing the Care2 petition HERE.
Find out more about about octopus farming from Compassion In World Farming's 'Octopus Farming: A Recipe For Disaster' HERE, and download their full report HERE.
Find out just how smart octopuses really are in this Upworthy article HERE.
Read a National Geographic article on the subject of octopus farming HERE.
Find out some interesting facts about octopuses in a Natural History Museum article HERE.