When we think about the historical use of psychedelics in the UK, our thoughts probably jump to the experimental drug users, freethinkers and musicians of the 1960s. But did you know that ancient Britons were using psychedelics as far back as 2800BC? Or that they're the reason why witches fly on broomsticks?
Henbane, a psychoactive member of the nightshade family, was found on utensils in a Neolithic ritual site in Scotland, but is probably better known for its use by ancient witches. Although demonised by the Christian Church, witches were simply women who were knowledgable in the art of healing through plant-based medicine. Many of these 'Wise Women' would also use this knowledge to practice the art of Rural Magic, including the ancient tradition of Night Flying. Members of the nightshade family, such as henbane, belladonna and mandrake, contain powerful hallucinogens called tropane alkaloids that give the sensation of flying.
A salve would be made by mixing alkaloid nightshades with goose fat and, in order for it to be successfully absorbed into the bloodstream, would be applied to the sensitive membranes of the vagina with a wooden rod or broom. Hence the popular image of witches flying through the night sky on a broomstick.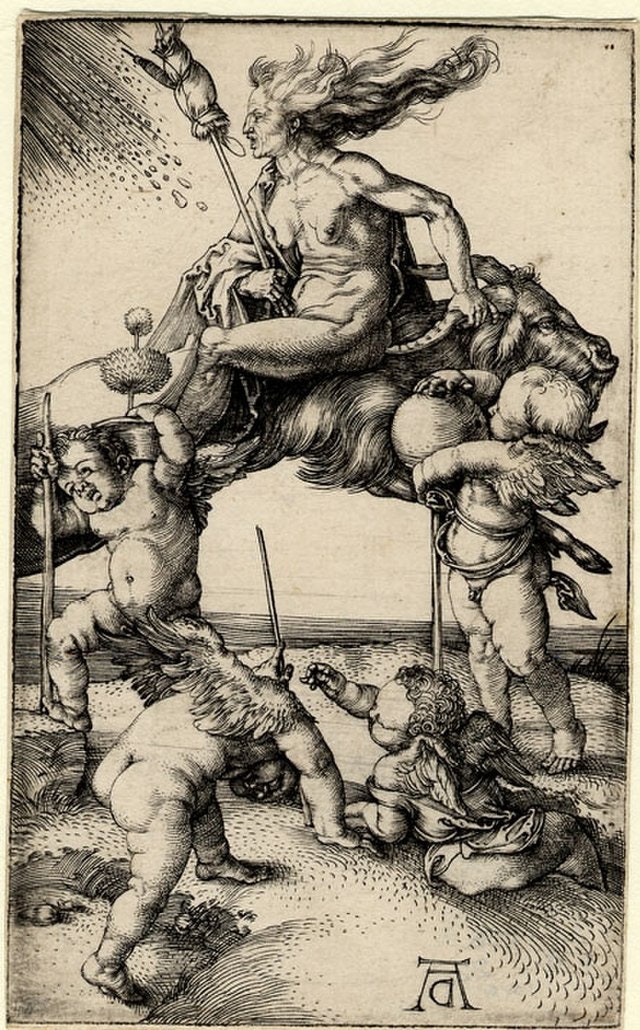 Image: Wikimedia Commons
This centuries old use of psychedelics was dumbed down by the Christian Church in the European Witch Trials of the 16th and 17th centuries, blaming Satan for these outlandish rituals to scare the public into following the teachings of the church instead. Conversely, around the same time it also appears that the use of psychedelics was actively encouraged to a lesser degree within the general population in Britain, being a common ingredient in most beers.

The psychedelic properties of psilocybin mushrooms and psychoactive toadstools have also been used for centuries by us Brits. The myths behind fairies, elves and other tiny people derives from the ancient Celts' ingestion of the Fly Agaric toadstool which affects perception of size and time. Alice in Wonderland's ingestion of this toadstool is the reason behind her size-shifting and time-warping travels. It's also why our little garden gnomes are often perched upon these red and white toadstools to this day.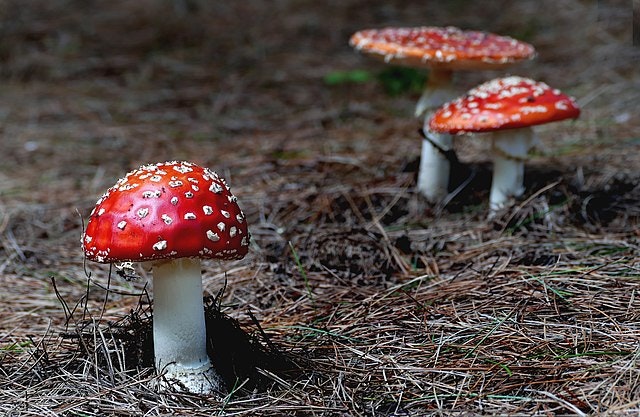 Image: Wikimedia Commons
Today, psilocybin, the psychedelic compound found in Magic Mushrooms, is playing an important role in the advancement of modern medicine, despite its vilification and criminalisation by governments in recent history. To date there has been no truly effective treatment for clinical depression, and the drugs that are commonly used to combat the symptoms of depressive disorders come with a risk of addiction and a myriad of often quite substantial side effects.

In 2019 the UK launched a world-first Centre for Psychedelics Research at Imperial College London, where research is being held into the clinical use of psychedelics in mental health care, neuroscience and social science. To date, the results from a phase two clinical trial look extremely promising. Just two measured doses of psilocybin, along with the help of psychotherapy, have shown to be as effective as a common and widely used antidepressant.
Bear in mind that these are carefully measured doses being administered under safe, clinical conditions. Taken in their natural form for recreational purposes, psilocybin mushrooms have been known to cause distressing psychoactive states. But with such promising results from clinical trials, the psilocybin mushroom could give rise to a new era in the global wellbeing of our mental health, and also our appreciation for the natural world.
Find out more about the research being done at Imperial College London in a Guardian article HERE.
Read the BBC article Psilocybin: Magic mushroom compound 'promising' for depression HERE.
Watch Imperial College London's video 'The Centre for Psychedelic Research: What's next for psychedelic science?' HERE.