There was some good news recently in regards to the bear bile industry in Asia. Due to the tireless efforts of Animals Asia, 101 bears have been successfully rescued from a bile farm in China. They will now live out the remainder of their lives in a spacious sanctuary, free from pain.
Despite this incredible achievement, there is still a very long way to go to end this torturously cruel practice. Throughout Asia, many thousands of bears face an entire lifetime confined in tiny, barren cages that are often too small to stand or turn around in, undergoing regular excruciating bile extractions directly from their gall bladder.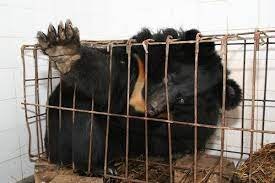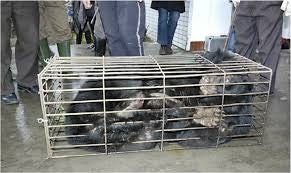 The bile of Asiatic bears has been used in traditional Chinese Medicine for thousands of years. Unfortunately for the bears, their bile contains ursodeoxycholic acid, which is medically proven to treat liver disease. But, as with many claims regarding Chinese Medicine, bear bile is falsely hailed as the cure-all for many other ailments including, most recently, coronavirus. Plant-based and artificial substitutes, with the same medicinal properties as bear bile, are currently available but consumers are reluctant to change the habits of a lifetime.
The farming of Asiatic bears, also known as Moon Bears due to a moon-shaped marking on their chest, began in China in the 1980's. Previously to this, bears were killed in the wild and their entire gall bladder removed, as well as various other organs and limbs that are considered a delicacy in Asian cuisine. Because of past and continued poaching, Asiatic bears are now officially classed as Vulnerable To Extinction.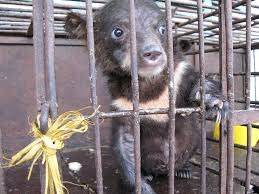 The farming of bile is still legal in China, meaning thousands of bears continue to suffer with no end in sight. But thanks to organisations such as Animals Asia, World Animal Protection, International Fund For Animal Rescue (IFAW) and Free The Bears, bile farming is now illegal in Vietnam, although the practice still continues underground. These amazing organisations are striving to make bear bile farming illegal throughout Asia and are continuing to provide loving, spacious homes for all of their rescued bears.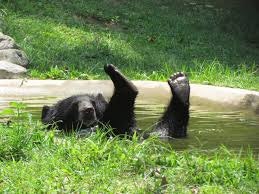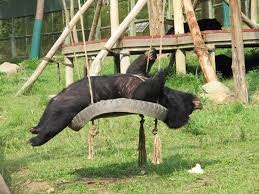 Click on the organisation names above for more details on bear bile farming and how you can help rescue these precious bears from a life of torture and misery.
Here's a video about Animal Asia's rescue of 101 moon bears in China: