The UK's Animal Sentience Bill is due for its third reading and final debate on the 14th March 2022. This bill is necessary to fill the gaps left in our Animal Welfare laws since leaving the EU, previously covered by the Treaty on the Functioning of the European Union, that legally recognised animals as sentient beings.
The UK was one of the first countries in the world to legally protect animals when the Martin's Act of 1822 made it illegal to treat domestic cattle, oxen, horses, and sheep cruelly or inflict unnecessary suffering on them. Laws continued to improve until the Animal Welfare Act of 2006 meant that it became a requirement to not just prevent unnecessary suffering but to actively provide for the welfare of animals. The new Animal Sentience Bill will hopefully now ensure that the government considers how all of its policies, not just those dealing directly with animals, impact the welfare of sentient animals.
Anyone who has owned a pet will know that animals possess individual personalities and complex emotions such as love, joy, fear, pain and grief in the same way that humans do. There is no question that animals are sentient. So how do scientists currently measure sentience and intelligence in other species?
Documented interest in animal sentience goes back as far as Aristotle (384–322 BC), and more recently a 17th century publication called Passions of the Soul by the French philosopher Descartes, who concluded through personal observation that animals cannot reason or feel pain. But it was Darwin's theories in the 1800s that pushed the mere speculation of animal intelligence towards actual scientific research. And, most recently, it was the 'Cognitive Revolution' - the 1960s intellectual movement into the study of the human mind - that inspired the study of animal cognition in the forms that we currently know it.
The ability to use tools was one historical assumption that apparently separated us humans from the rest of the animal kingdom. But as our ability to observe animals in their natural environment has developed, it is now clear that many animals utilise tools, including species of apes, monkeys, birds, dolphins, sea otters, octopuses and rats.
The most modern methods used to measure animal cognition are very closely related to those we use to measure intelligence in humans. A vast array of species have been tested for cognitive abilities relating to perception, attention, concepts and categories, memory, spacial cognition, timing, tool and weapon use, reasoning and problem solving, cognitive bias, numeracy, sapience, theory of mind, and consciousness. You can find more in-depth details about these tests in the Animal Cognition Wikipedia article HERE.
The UK's new bill will recognise all vertebrates as sentient but only certain invertebrates such as decapod crustaceans and cephalopods - including lobsters, crabs and octopuses - after the London School of Economics and Political Science recently concluded that there is strong scientific evidence that they are also sentient. However, the government were quick to point out that the decision to include certain invertebrates in the new bill, "will not affect any existing legislation or industry practices such as fishing. There will be no direct impact on the shellfish catching or restaurant industry. Instead, it is designed to ensure animal welfare is well considered in future decision-making."
With sentience and intelligence tests for animals so closely mirroring those for humans, is it fair that human intelligence is the litmus test for all intelligent life on the planet? What happens when animals are deemed insentient because they don't meet the criteria that we've set, especially when tested under laboratory conditions that are far removed from their natural habitats? Does it then become acceptable to continue to boil lobsters alive, or to factory farm octopuses?
We must question how humans can possibly begin to truly understand the minds of different species, especially those of the million-plus invertebrates that have evolved in a very different direction to us? Octopuses, for example, have three hearts, nine brains and are able to change the colour of their skin, yet their intelligence has been measured under laboratory conditions with data taken into consideration that included the ability to open jars to retrieve food, whether they chose to spend time playing with a Storm Trooper figurine and the fact that they became more sociable when given the drug ecstasy.
When it comes to our personal relationship with animals, we are often culturally conditioned to empathise with the emotions of certain species above others. As a nation known for its love of dogs and also a hearty Sunday roast, there is an obvious dissonance in our apathy towards the welfare of animals that are destined for our plates. We can be up in arms about the dog meat trade in Asia, where dogs are raised in tiny barren cages solely for meat, yet ignore the billions of pigs confined in very similar conditions on intensive farms in the UK, despite the fact that modern science suggests that pigs may well be smarter than dogs. They've even been shown to outsmart chimpanzees, when it comes to playing video games that is. This is why it's vitally important that all species of animals are recognised as sentient under the law.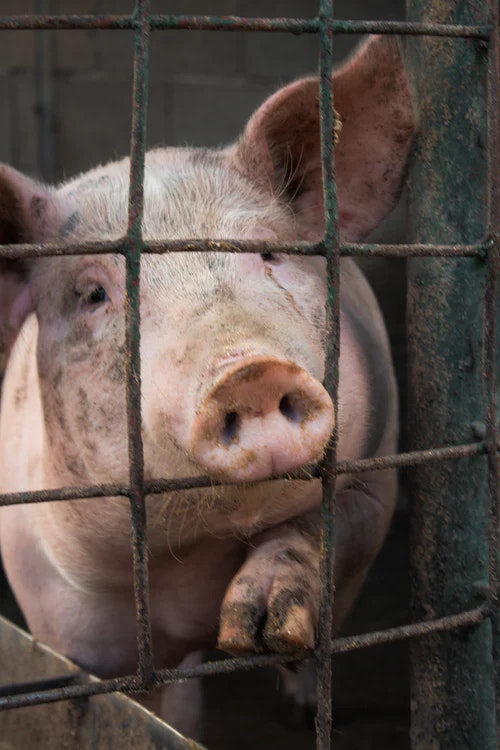 Photo by Slavcho Malezanov on Unsplash
Every species, including the close ancestors of those animals we've domesticated, have evolved over millions of years only as much as necessary in order to successfully propagate themselves in harmony with the rest of our planet's biological diversity, their intelligence and all.
As the torment we inflict on our fellow animals becomes more apparent through the increasing proof of their ability to feel joy, love, loss and pain, surely our 'superior' intelligence can be put to use by striving to ensure that no animal suffers purely for our wants and needs.
Find out more about the UK Governments Animal Sentience Bill, and how you can have your say in regards to it, HERE. And its current stage in the Commons HERE.
Find out more about the progression of the bill at Born Free's website HERE.
Find out why the recognition of animal sentience matters at Compassion in World Farming's website HERE.
Learn more about how animal intelligence is measured HERE.